Casa Sandra - Via Monte Paganella, 10 - Favaro Veneto Venice
Tel. +39 331 9069186 - info@casasandra.it - 10 MINUTES FROM VENICE
HISTORY OF FAVARO VENETO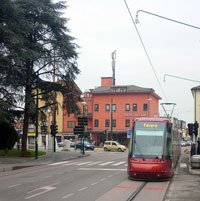 The township has has its origins in the Middle and, until its expansion in the twentieth century, Favaro Veneto was a small village with a predominantly agricultural economy. Its name is derived from the likely existence of a renowned blacksmith shop ("favaro" in the Venetian dialect means "blacksmith").

Originally characterized by the presence of many forests and wetlands that connected the township to the Laguna Veneta, the area of Favaro Veneto was made totally cultivable only with the engineering work carried out by the Venetian Republic in the sixteenth century. The remediation that took place between the nineteenth and the twentieth century contributed to the urban sprawl significantly.

Favaro Veneto was Municipal Deputation of the City of Venice from 1816 to 1866 (under the Emperor of Austria), then was Common Council (under the Kingdom of Italy), administering the nearby localities until 1926, when the townshio was merged with the Municipality of Venice by Decree-Law (OJ No. 183, 09.08.1926, 15.07.1926 RD No. 1317).


Favaro and surroundings

For who has more time or is visiting Venice for the second time you should try not to miss:
The ancient tower of Tessera (on the way to the airport)
The Zheir's wood (via Altinia, on the way to Dese) just 3 km from Piazza Pastrello
The Parco San Giuliano: the lagoon offers astonishing view of Venice http://www.assboscomestre.it/zaher.html
At the Park of San Giuliano the events "The Village" and the "Sherwood Festival" (from June to August).
With many of free outdoor evening and lunchtime concerts, the Festival offers many facilities: several bistro with a wide selection of cheap food (Pizza and Italian cusine and African and Arabian cusine), a flea market, and a free parking area near the Panorama mall.
The Riviera del Brenta, where starting from the 16th century, many large Venetian villas were built along the shores of the river.

Somewhere, in the Venetian Region

A walk acroass the City of Treviso

A short trip to the township of Asolo
A short trip to the township of Arquá Petrarca
A walk acroass Monselice, a town located on the Colli Euganei, a group of hills of volcanic origin that rise to heights of 300 to 600 meters.
In august, The Artisan Craft Fair of Cison Valmarino (on the way to Belluno, exit Vittorio Veneto Sud)
A unusual destination is the Cartizze's hill (near Valdobbiadene, Treviso) . There is an "Osteria senz'Oste", a tavern without host sorrounded by revitalising greenery of the vineyard. See to believe: you can taste typical drink and food and just let some money as equivalent offer.
Abano or Montegrotto Terme: the most important and oldest thermal center in Europe
Links:

http://it.wikipedia.org/wiki/Favaro_Veneto
http://www.terraantica.org/2012/01/06/comune-di-favaro-territorio-e-abitazioni-nellottocento/
http://www.venezia.ws/ita/favaro-veneto.html