Casa Sandra - Via Monte Paganella, 10 - Favaro Veneto Venice
Tel. +39 331 9069186 - info@casasandra.it - 10 MINUTES FROM VENICE
ABOUT CASA SANDRA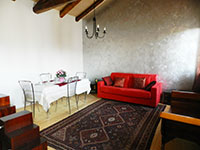 My old historic house is near Square "Piazza Pastrello", in the center of a small town named Favaro Veneto (just 4 km from Venice). My house is a rural house with more than 100 years of life. The place is at the same time central and quiet: located at the end of a close street.
I saw the rural house since 2000, the year in which I decided to buy it from my dear friend Enrico.

I started to live there one day, in March of 2007.

I remember I went here with Billy (my little dog??), and what a paradise! The flowers bloomed, an intense yellow landscape and the little Billy ranning through the small garden. As I went up to the first floor to look around, suddendly I decided to move there. I thought: "This House had adopted me, now I belonged it".

The next week my trusted friends Paul, John, Claudio, Roberto, Marino and I started the restoration.

The roof had to be redone. But I so was curious to see the attic that we decided to open a hole in the ceiling (in the heart of the old house). I climbed a long ladder and what a surprise! The roof was made ??of old

The bathroom is my paradise! Actually I utilized the Vietri's ceramics: something that I always desiderd.

The sink is resting on an old wood furniture, and the mirror is made by a oriebtal craftsman. Even the house's furniture were choosen following my passion for the ethnic style.

The windows with double glazing are vintage and restored it with ecological varnish. I decided to utilize.
The same austrian wood for the floor: under the fir was laid a coat of cork for insulating. And my brilliant friend Kirti decided to replace the loft totally.

When we finished the restoration of the first floor, then we began to restore the last portion of the house: where I live. And this would be another great history to tell ... But just let me say: Home Sweet Home!